While pandemic-related challenges are starting to diminish, the aviation industry, like others, is being impacted by current economic conditions. In particular, the air cargo sector has been affected by troubled economies across the globe. On the bright side, airports are hitting their stride with many now operating at pre-pandemic traffic volumes.
Four in Ten European Airports Attain Pre-Pandemic Traffic Volumes
The Airports Council International Europe (ACI Europe) recently reported on traffic volumes at European airports. Their findings are encouraging and demonstrate the ongoing recovery of both domestic and international routes. Overall, passenger traffic through the European airport network increased by 69% in January 2023 compared to January 2022. International passenger traffic increased even more by 85%. When compared to January 2019, the January 2023 traffic was just 11% lower. Based on this data, ACI Europe deemed January 2023 "the best monthly performance and thus closest to a full recovery since the start of the Covid-19 pandemic."
The busiest hub in January was Istanbul airport which saw 5.64 million passengers pass through it. Right behind Istanbul were Heathrow (5.4 million), Paris CDG (472 million), Madrid (4.43 million), and Amsterdam Schiphol (3.9 million).
Within those airports welcoming more than 25 million passengers annually (i.e., Group 1 airports), London Stansted experienced the largest passenger traffic increase in January 2023 at 173.9% higher than January 2022. Other Group 1 airports with strong performances in January 2023 include  Gatwick (up 170.6%), Rome Fiumicino (up 143.1%), Manchester (up 119.1%), and Dublin (up 112.5%).
Also contributing to the upswing in passenger traffic at European airports are the capacity expansions by ultra-low-cost carriers and the elimination of pre-departure testing requirements for travelers coming from China.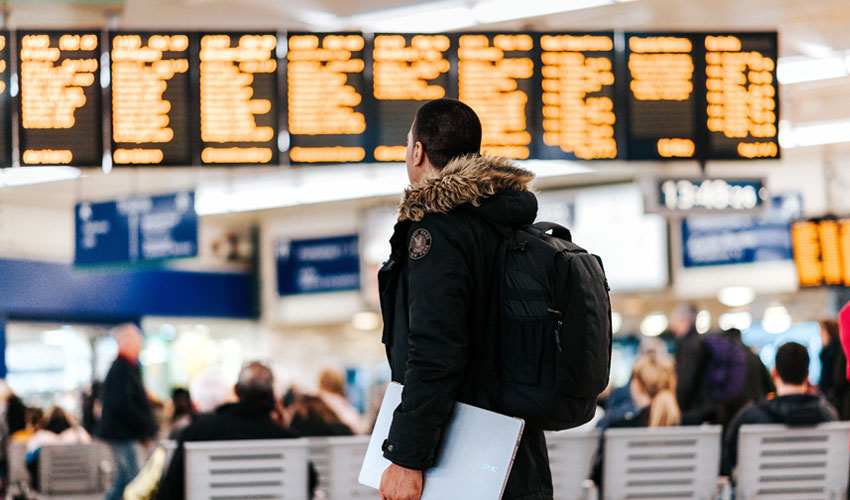 Airports in a Future-Forward Mode to Advance Economic Growth and Sustainability
In addition to supporting increasing passenger volumes, many of today's airports are looking toward the future. They are making decisions and improvements that advance their most important goals including driving economic growth and more sustainable operations.
Airports are major employers and their operations are dynamic drivers of economic growth, green job creation, industrialization, and educational initiatives relating to green energy applications. They also play an important role in supporting small and medium enterprises (SMEs), as well as industrial businesses surrounding their locations. Specifically, they are helping these SMEs with their decarbonization efforts.
With the airports themselves, there has been a movement toward electrification. Airports recognize that as de facto small cities that consume considerable energy, they need to act responsibly to meet their energy needs with holistic electrification measures targeting mobility to, from, and at the airport, both on the airside and landside. Additionally, they are working towards the production of clean energy to reduce their carbon emissions.
As one of the largest energy demand aggregators, airports can produce significant economies of scale for on-site hydrogen production and liquefaction. This would support both their own operations' decarbonization and that of local industries and businesses. Additionally, while not directly involved in sustainable aviation fuel (SAF) procurement, airports are becoming key players in the facilitation of SAF deployments.
By becoming efficient energy hubs and embarking on energy-efficient practices, they are helping to reduce CO2 emissions, improve air quality, reduce energy-related costs, and, overall, improve the quality of life for their surrounding local communities.
Air Cargo Still Being Impacted by Challenging Economic Conditions
In the early days of the pandemic, air cargo was a shining star. Now, however, current economic conditions are holding operations to a slow start in 2023. The International Air Transport Association (IATA) reported that in January 2023, global air cargo markets experienced declining demand due to troubling economic conditions. IATA reported that global demand, measured in cargo tonne-kilometers  (CTKs), declined by 14.9% compared to January 2022 figures. Capacity, measured in available CTKs (ACTKs), was up by 3.9% compared to January 2022; the first year-on-year growth in capacity since October 2019. There was an increase of 1.4% in international cargo compared to January 2022 indicating a strong recovery of belly capacity in passenger airline markets which is offsetting the decline in international capacity provided by dedicated freighters.
Among the market conditions to which air cargo's performance can be attributed are:
Global new export orders of the manufacturing PMI, a leading indicator of cargo demand, increased in January 2023 for the first time since October 2022. PMI levels are close to the critical 50-mark in China and the U.S. reflecting stabilizing demand for manufactured goods from these two largest economies.

There was a 3.0% decrease in global goods trade in December 2022; the second consecutive month in which this occurred.

The Consumer Price Index (CPI) for G7 nations decreased from 7.4% in November 2022 to 6.7% in January 2023, while inflation in product (input) prices dropped by 2.2 percentage points to 9.6% in December.
>> What do you think the air cargo industry can do to overcome current challenges? Share your thoughts with us in the comments section.
Related Posts