The world is facing an unprecedented crisis as result of the COVID-19 pandemic. Since its outbreak, the air cargo industry has been a crucial partner in delivering critical medical supplies and food shipments. More than ever, governments recognize the value of the sector as a contributor to the economy and society's overall well-being. Keeping the global supply chains functioning though represents a great challenge. Travel restrictions and quarantine measures are being enforced to prevent the further spread of the virus. At the same time, they have placed a heavy constraint on air cargo capacity.
In fact, the International Air Transport Association (IATA) registered a decrease of 31.2% in global airfreight capacity in July compared to 2019. Before the pandemic, jet bellyholds carried thousands of tons of goods, accounting for 50% of cargo movement. Because of the Coronavirus, belly operations have fallen dramatically, recording a reduction of 75% in April year over year. This can be attributed to the 43% of passenger aircraft that remain stored worldwide. It seems that the virus will be here for the long haul. Therefore, we can expect that the high demand for time-sensitive materials will continue. Will the industry be ready to meet upcoming transporting needs?
Tips to deal with air cargo capacity restraints
1. Adjust your plan to enhance lead time accuracy
Whether a small or medium-size business, cargo space constraints place significant operating pressures on carriers. Enhancing delivery accuracy is key to achieving more cost-efficiencies and staying competitive. As the context changes rapidly, it becomes more difficult to forecast demand. This makes comprehensive planning more necessary than ever.
Situational adjusted planning relies on precise data pertaining to resource requirements, flight schedules, and essential sanitary precautions. Since these factors are very dynamic, shortening the planning horizon can help carriers better adapt their processes. As the day of operations gets closer, it becomes more important that plans be reviewed and modifications implemented, as needed.
2. Improve communication and focus on core routes
Defining optimal customer communication channels is critical to planning air cargo capacity. Counting with basic information such as consignment details and readiness of freight for pickup, as early as possible, enables decision makers to efficiently prepare their shipments. In the current volatile period, ensuring adequate information flow helps in managing customer expectations. A good strategy can include increasing the communication frequency so that airlines can tailor their capacity offerings to meet new needs.
Restrictions in international travel have prompted managers to rethink their route networks. The lack of capacity prevents airlines from servicing origins as previously done. Some of these destinations might be heavily dependent on passenger lift. Relying exclusively on freighters to cover such routes could increase transit times and rates. Therefore, carriers should focus on specific lanes based on customer demand and operational feasibility. As new safety regulations are enacted, planners need to review their destinations constantly. In doing so, they can optimally define their flight schedules, improve the allocation of resources, and maximize air cargo capacity utilization.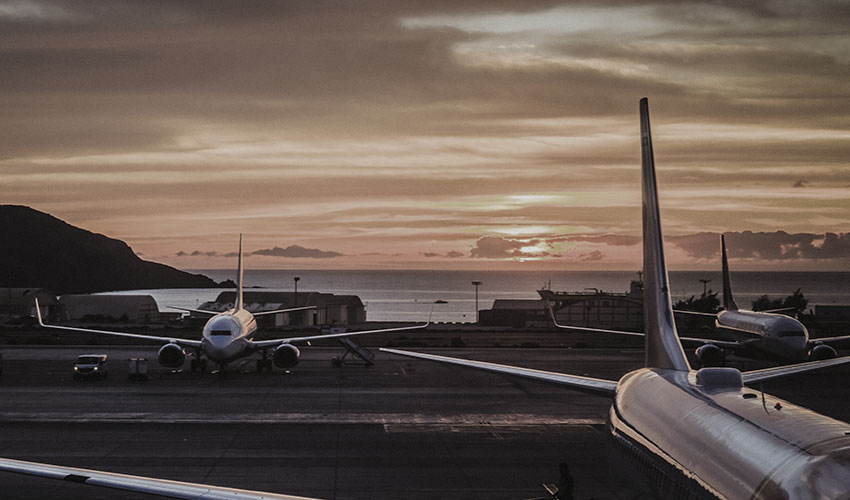 3. Optimize fleet management
In times where efficiency is in the spotlight, decision makers must evaluate how to improve their fleet utilization. The first step is to determine which dedicated freighters are more convenient to keep in service. Factors like fuel consumption, maintenance requirements and capacity must be weighed. Additionally, carriers might opt to extend their operating hours and add more daily flights to increase air cargo capacity.
Such efforts, however, are not sufficient for offsetting reduced passenger services. An interesting measure taken in the past weeks by some carriers has been to reconfigure jet fleets for cargo-only flights. Carrying products in the cabin must be approved by the National Aviation Authority (NAA). Guidelines have to be followed to ensure safe transport. It is the responsibility of each company to properly brief and train aircraft crew regarding this.
Operators might decide whether to take advantage of the space under and over the passenger seats to stack packages or to remove seats completely. The Federal Aviation Administration recommends conducting a risk assessment before making any changes to the main deck. In all cases, load distribution must follow the guidelines specified in the aircraft manufacturer's Weight and Balance Manual.
Good to know >> Cabin seats and bins are not intended for carrying dangerous goods. Security standards set by IATA apply, even if only a minimal amount of a substance is classified as hazardous. These consignments can be loaded only in the lower deck after NAA´s approval.
4. Build relationships
To overcome COVID-19 challenges, carriers should be open to creative arrangements to guarantee air connectivity. Teaming up with other air cargo service providers can help optimize demand coverage. By complementing their network operations, it is possible to create added value for customers. More flexibility when determining the required time of arrival and destination is among the benefits they can be offered to potential clients.
Such alliances are especially beneficial for companies that want to enter markets with strict Coronavirus-related regulations. Through partnerships, airlines can overcome the restrictions on where they can fly in each other´s respective countries.
The industry must remain open to innovative solutions
Air cargo capacity restraints urge carriers to make their processes more efficient. The market's volatility reflects how important proper planning has become during the crisis. Maximizing aircraft utilization implies the ability to adjust processes to ever-changing health protocols. Decision makers should be prepared to flexibly respond to task and resource allocation changes in short notice to facilitate smooth airfreight operations.
It is expected that airfreight demand will increase in the near-term. Air transport has always been a popular medium to distribute time- and temperature-sensitive materials. This fast and reliable shipping method will play then a major role once COVID-19 vaccines are approved and ready for distribution. Nevertheless, specialists warn of the potential risk for deeper capacity shortages.
The resumption of passenger networks will relieve some of the pressure. Since this process is expected to unfold very slowly, the industry requires a backup plan. Aviation stakeholders should now start developing solutions that help mitigate future operational limitations. In addition to adjusted planning, business collaboration and creativity will be essential to ensuring the pandemic does not compromise the continuity of the valuable air bridge.
Related Posts