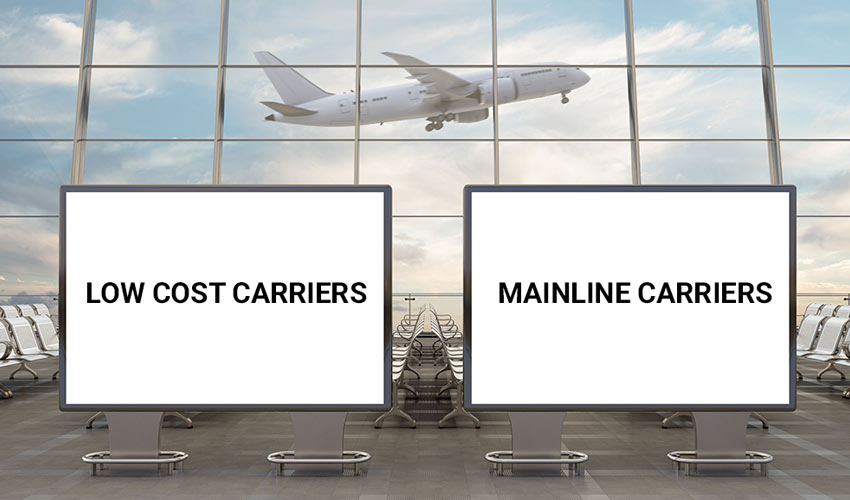 Delays cost a lot of money, that's why both mainline carriers (MCs) as well as low-cost carriers (LCCs) try to avoid them the best they can. How do they compete and what are their successes?
Let's take a look at the larger airlines in the world. In the US, there are the Big Four: American Airlines, Delta Air Lines, Southwest Airlines and United Airlines. Their annual On-time Performance (OTP) percentage figures are quite close, all between 76.9 and 83.4 percent. Southwest Airlines is the only one that identifies as an LCC, the other three are MCs. Another major airline in Europe is Ryanair. According to claimcompass, only 14% of Ryanair's flights arrived 15 minutes late or more in 2018, making it the most punctual global airline. Ryanair is the essence of an LCC. The only four worldwide airlines with an annual OTP of 90% or above are all MCs: Garuda Indonesia, Fuji Dream Airlines, Copa Airlines and Star Flyer. So, who performs better, MCs or LCCs?
More complexity, higher costs?
The answer is not that easy. One must consider that the history of LCCs is by far not as long as MCs. Let's have a short history excursion: the traditional business model of network carriers is based on the idea of the Convention on International Civil Aviation of 1944 to build an efficient and effective global airline carrier network. Most of today's network carriers were formed by national carriers, which became private companies through the liberalization of air traffic between the 1970's to the 1990's.
During and especially after this period, LCC's have become extremely successful all over the world by inventing a totally new business model in aviation that perfectly hit the needs of the customers. This new model is based on low prices, no extra service, no free drinks or food, no frills at all, accompanied by cheaper airports, only point-to-point connections, no hubs or connecting flights, same aircraft types and so on. These factors that LCCs chose to eliminate are all factors which enhanced complexity in the daily business were reduced. By simplifying, essential cost drivers were eliminated, allowing the airlines to operate with very low ticket prices while still being profitable. The price was the only compelling argument to use a LCC, but the discount is enough to be appealing to customers.
As more and more LCCs merged in the last 20 years across the globe, they also made their way to the major airports and even started to operate more like the MCs. For example, LCCs like Eurowings, part of the Lufthansa Group, offer long-haul flights with business seats and all according amenities. On the other hand, through the cost pressure which seems to increase every year, the classical carriers are being forced to reduce their offerings just to be able to compete on the market.
Merging business models?
The business models and passenger service concepts of MCs and LCCs are nearing each other to the point where some selected airlines are becoming a sort of hybrid MC and LCC. The question is, will the basic concept of MCs and LCCs completely merge one day? And, ultimately, what does this all have to do with OTP? One thing is clear: MCs have a more complex operation which requires a lot more effort to achieve OTP. A classical MC with its more elaborate passenger services and processes, hubs, diverse fleet and complex networks has more personnel- and more time-consuming daily business operations. Still, their services are needed and will remain a demand in future. As long as there are connecting flights from hubs all around the world, long-haul flights, business seats and business lounges, there will be mainline carriers. However, MCs will have to keep up with the simple structures and the low costs of LCCs. To achieve this, the large MC groups will continue to establish their own LCC brands as part of their group – like the Lufthansa Group did with Eurowings or Transavia, a subsidiary of the KLM group. The MCs see these additions as a reasonable extension of their portfolio for a good reason.
OTP: Essential for both!
For MCs with hubs and connecting flights, On-time Performance is more essential. They need to make sure their passengers catch connecting flights to avoid costly compensation claims. LCCs don't have this hub problem as they only operate point-to-point connections, leaving the passengers responsible for their connections. At the same time, their cost pressure is even higher due to lower ticket revenues. If the two business model scontinue to converge in the future as predicted, it is obvious that both MCs and LCCs must equally regard OTP as a top priority.
Related Posts