Countries around the world are loosening their cross-border restrictions to reactivate their economies. Whether strict lockdowns will be necessary in the future is still unknown. However, it seems that the virus will continue spreading at a slow burn. Aware of this, aviation has reaffirmed its commitment to keeping staff and travelers safe. The pandemic has created a new set of expectations about air travel. Adapting airport operations to these requirements is key to moving forward in the recovery process.
Enabling a seamless passenger journey is a major challenge in this New Normal. Government agencies have released a series of guidelines to reassure the public. They are applicable at all levels – from check-in to boarding. The implementation of protective protocols adds extra complexity to airport processes. As a result, more time and resources might be needed to perform regular tasks. Daily planning of tasks such as biosecurity will need to be decisive for airports to bounce back from the crisis.
Key considerations for adapting COVID-19 rules to airport operations
1. Analyze the measures to put in place
Almost every Region around the globe has reported at least a few Coronavirus cases. The way in which countries have been affected, however, has been far from equal. Data shows that those using COVID-19 tests and contact trace systems have been able to better tackle the virus. The development of national regulations based on local epidemiology has become crucial to an effective pandemic response.
As airport operations resume, decision makers must be aware of safety guidelines. Planning their introduction may require communication across the chain for a more coordinated action. Besides enhanced cleaning and social distancing, efforts must be directed at how best to manage asymptomatic passengers. The type and extent of various public health requirements will depend on several factors such as:
Traffic volumes

Number of flights coming from low, moderate, or high-risk countries

Infrastructure and capacity
Determining which measures have to be implemented in airport operations is a critical task. What happens, for instance, when the security area does not enable distancing during the screening process? Operators and local authorities could require officers to wear facemasks with eyes shields as additional protection. To make informed decisions, it is recommended that airports carefully evaluate potential transmission risks.
>> Tip: An optimal risk assessment should include non-Coronavirus and Coronavirus related hazards. This will ensure that pandemic-related controls will not affect the mitigation of other risks.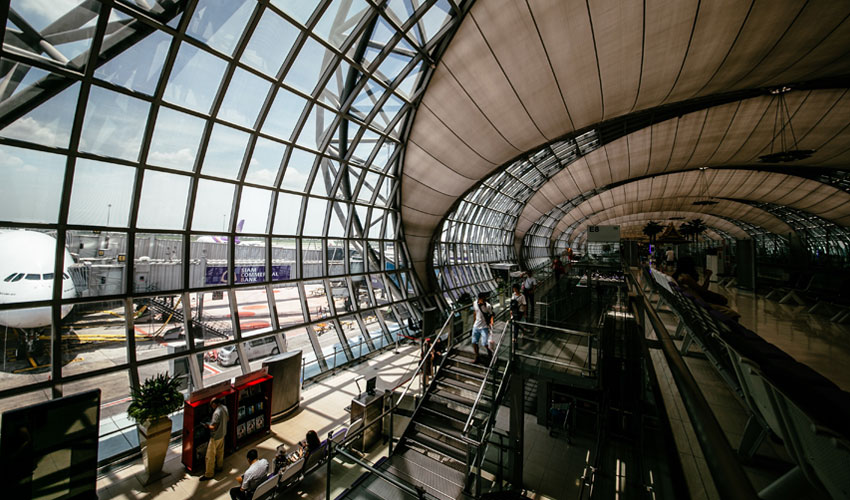 2. Identify minimum requirements for the implementation
Depending on local and international regulations, the protocols adopted will vary from airport to airport. Complying with them demands specific resources, infrastructure and know-how. To better assess these requirements, operators should:
Break down the passenger journey to find the most suitable point at which to insert each measure

Analyze if existing technologies can be re-adapted to meet upcoming needs

Identify the staff capabilities that should be developed

Determine spaces for health controls based on the airport's layout
Operational areas have characteristics that determine their adequacy for deploying various protocols. For example, temperature checks require enough space for equipment, employees and travelers. Since waiting times might increase, the assigned area has to allow for efficient queuing.
As new hygienic procedures are introduced in airport operations, it is important to provide ad-hoc staff training. Updating competences is necessary especially for employees returning to work after being laid off for months. From online courses to daily briefs, there are several methods to flexibly train staff members. For blood sampling, specialized medical personnel will be required. The support of local health organizations is key for providing this level of clinical expertise.
3. Measures should be scalable
The rapidly changing situation makes it difficult to forecast. Therefore, managers should be ready to scale protective procedures up or down based on the local transmission scenario. Such flexibility is paramount to preventing major disruptions in airport operations.
From a business perspective, agility offers advanced efficiency. Airports able to adapt quickly are more likely to overcome the crisis. Faster turnaround times for carriers and an improved travel experience are among the benefits of an agile approach.
Planning is key for business recovery
Regardless of the type of health protocols, staff will face great changes in airport operations. A multi-layered approach is vital to implementing them without creating bottlenecks. Assessing the COVID-19 guidelines and their operational suitability is the basis for planning in the New Normal.
Delivering a "touchless journey" has become a priority for the industry. Advanced technologies such as biometric scanners and facial recognition can help to achieve this goal. But how feasible is it for operators to introduce them under the current financial challenges? Airports must align with airlines and national authorities towards adopting innovative solutions.
It seems that the virus will be part of our lives in the upcoming years. Looking at the medium term, airports have to prepare for a potential series of new restrictions. Being more dynamic and proactive will ensure the continuity of services. That makes planning of utmost importance. Safety measures may affect processing times, workflows, queue layouts, and other parameters. Thus, managers need a strategy to handle changes in airport operations in a sustainable way.
Related Posts