For ground handlers, a longstanding challenge has been keeping track of their containers, unit load devices (ULDs) and dollies. Where the challenges lie in on-time performance (OTP) is in knowing such factors as: to which dock has the ULD been delivered, where to find an empty and suitable dolly, where exactly the dolly is located on the airport apron, and where to find an empty ULD that can be used for loading in the Cargo Center. The inability to gain a dolly's real-time status, and whether or not it is empty or loaded, as well as which ULD is loaded, has created a lack of control over these assets. This, in turn, has caused a ripple effect with negative impacts on cargo ground handlers' on-time performance.
Recently, a supplier of AI (Artificial Intelligence) software to the aviation industry teamed up with a specialist in Telematics to develop the industry's first solution that facilitates a vastly improved process of managing and maintaining dolly fleets and effectively answers, in real-time, the questions:
Where is a suitable dolly located?

Is it empty or loaded?

Where is the container/ULD?

Where are empty containers/ULDs?
By combining the information about dolly and ULD location, ground handlers are able to locate every ULD on the apron quickly. The ground handlers have complete control over their dollies and ULDs. Unnecessary search time is avoided and secures improved on-time performance.
Combining Telematics with Intelligent Dolly Management
The basic idea was to bring together telematics and processes-derived information to erase blind spots on the apron. The AI real-time allocation solution manages the optimized allocation and assignment of ULDs to a loading or unloading task. It provides a full view of the process relating to where a ULD is in the warehouse and to what location it will be provided and made available. This means the real-time allocation system brings in the specific ULD information.
The Telematics technology complements that application by introducing a next-generation tracking system that not only tracks the location of a dolly, but also identifies whether a dolly is loaded or unloaded, as well as if it is defective or intact. This is especially important in order to quickly feed empty dollies to the loading process. Sensors on the dolly detect whether one or even several containers are loaded on the dolly.
Providing Data in Real-Time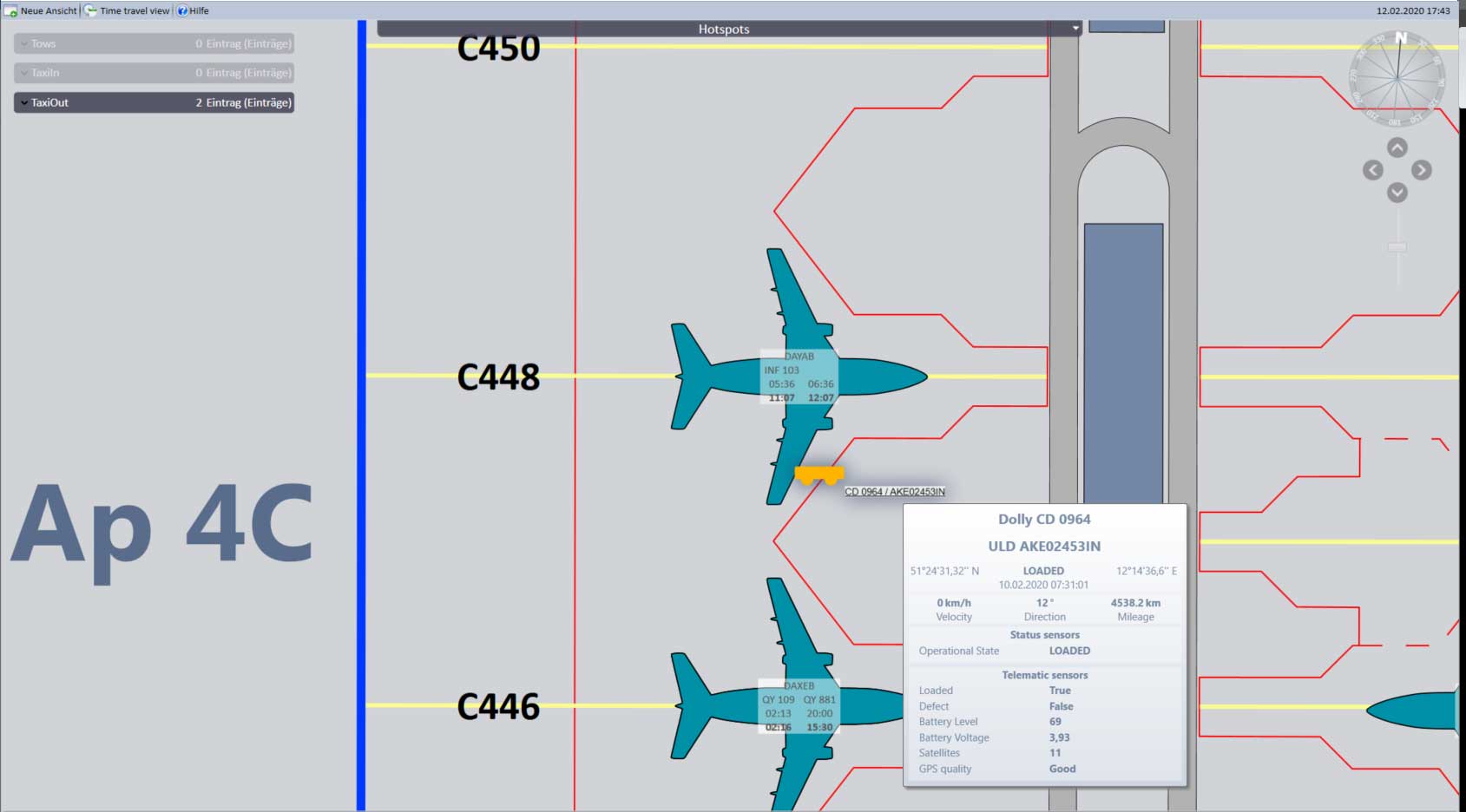 In combination with the real-time allocation solution, it is possible to take the information and deliver precise data regarding a ULD's status as to: when and where a ULD is ready for pick-up, to which dock has the ULD been delivered, what time it was loaded in the warehouse, if the ULD has already been loaded to a dolly and, if so, where the dolly including the respective ULD was parked on the apron to wait for the arriving aircraft. In fact, by transmitting the dolly's status data in real-time, ground handlers also have complete control over their ULDs. As soon as a ULD is placed on a dolly, the system knows which ULD has been loaded because the pick-up information has been delivered by the software. This provides full assurance on which ULD is loaded on which specific dolly and the exact location of both dolly and ULD on the apron at every given moment.
Improving On-Time Performance
By identifying whether a dolly is loaded/unloaded, defective/intact, unnecessary "empty runs" or time-consuming searches are avoided enabling tractor drivers to locate operational and empty dollies as quickly as possible. Knowing if a dolly is empty or loaded is one crucial factor but in addition it is also necessary to know the type of dolly. So another key factor in improving OTP in cargo handling is the fast localization of a certain dolly type that is necessary for being able to load a certain ULD. The combination of tracking and processed-derived AI information enables the quick locating of the nearest suitable dolly. This process can be even more improved by loading time critical ULDs first, which is again possible by using the information derived from the real-time allocation software.
In the case of position changes when a ULD has already been delivered to a neighboring position on the apron, it is still possible to locate the ULD quickly and ensure best possible on-time performance.
Empty ULDs unloaded at parking areas can be identified easily and pick-up tours between the aircraft and cargo center can be planned efficiently to ensure a fast and effective ULD packing/loading process.
The solution also provides the ability to identify defective dollies and promptly calculate an alternative scenario should an empty dolly be needed for immediate loading.
Pushing the Envelope over Traditional Tracking Systems
Today, with increasing air traffic and the heightened emphasis on airlines' on-time performance, the pressure on ground handlers to operate at peak efficiency has never been greater. Airports too are under high cost pressures. Aircraft handling must be fast and efficient. Advanced solutions help to promote greater control and to improve processes on the ground. Combining AI and Telematics demonstrates how pooling the strengths on both sides can help to maximize these goals and achieve results that are only possible by combining forces.
Related Posts