Air cargo has proven to be a vital partner in enabling global trade. Whereas other methods of transportation found their limits, air cargo played a pivotal role in the transport of basic goods and perishables, ranging from vaccines, medical supplies and personal protective equipment (PPE) to food. Factors like rapidness, high security standard and reliability make the sector critical to satisfy immediate population needs. Today, organizations worldwide recognize its great value to ensure a successful and speedy post-pandemic revival of national and regional economies. Thus, they emphasize the importance of guaranteeing the conditions to support a smooth air cargo recovery.
Almost two years have passed since the Coronavirus outbreak and some questions remain. How can aviation stakeholders help build a more resilient air cargo industry? What conditions remain favorable for a continued growth of the sector? What are the challenges ahead? In an interview with INFORM Aviation´s Head of Air Cargo and Line Maintenance, Swen Franken, we analyze the impacts of the Coronavirus on airfreight operations and their on-time performance, and we take a look  at the drivers that would strengthen the cargo market.
1.    How have air cargo operations changed as a result of the Coronavirus?
COVID-19 was a disruptive event – not only for the economy as a whole – but specifically for the air cargo business. Whereas previously cargo departments operated in the "shadow" of the dominant passenger business, this changed considerably during the crisis. While before the pandemic, cargo's average share on an airline's operating revenues was roughly 10%, IATA analysis reveals how its importance rose to 30% by mid-2021, with the sector serving as a commercial backbone for many airlines worldwide. We all may have read about the ambiguity of a drastic capacity shortage due to grounded fleets, while at the same time, the need for air cargo transportation grew tremendously. This resulted in high prices, aircraft conversion and so-called "preighter" concepts. Even though public attention was focused on the part of transportation taking place in the air, cargo ground handlers had a challenging time, too. Operating routines had to be amended, staff needed to be trained for handling increased numbers of pharmaceutical shipments (e.g., vaccines), while concurrently, existing storage and handling facilities reached their maximum.
2.    To what extent has the pandemic affected air cargo´s on-time performance?
How much the on-time performance of air cargo was affected as a whole is difficult to assess, however, the reduced network and belly capacity of passenger aircrafts led to a massive decrease in supply. In combination with changing travel restrictions, the available capacity on passenger flights was hard to predict and will have impacted lots of shipments. Hence, many airlines strengthened their market position and improved their reliability for their cargo clients by acquiring new cargo planes or converting existing ones to ensure they could meet the demand and the agreed SLAs. Despite the overall market ups and downs, we are also seeing airlines that have used the last year to strengthen their cargo business through already realized or planned investments, thereby even increasing their on-time performance compared to previous years when looking purely at cargo-only flights.
When it comes to on-time performance, no other cargo product received more attention in the last 12 months than pharmaceuticals and the cold chain, in general. Transporting valuable vaccines via active and passive climate ULDs was one of the biggest challenges for our clients this year. Delivering them on time to their destinations had to be a success and was seen as both a prestigious endeavor, as well as a chance to help end the pandemic.
3.    We are coming into a new phase. Passenger traffic is gradually coming back, which gives some hope for additional bellyhold capacity. However, the industry is currently facing staff shortages. How can airlines deal with this?
The pandemic served as a strong catalyst for worldwide digitization. Combined with intelligent optimization software, these two factors can be key to turning the challenge of increasing, but still volatile, capacity growth into a success story for aviation companies. Utilizing the existing workforce, equipment pools and storage facilities in the best possible way will facilitate the ability to stay ahead of market developments.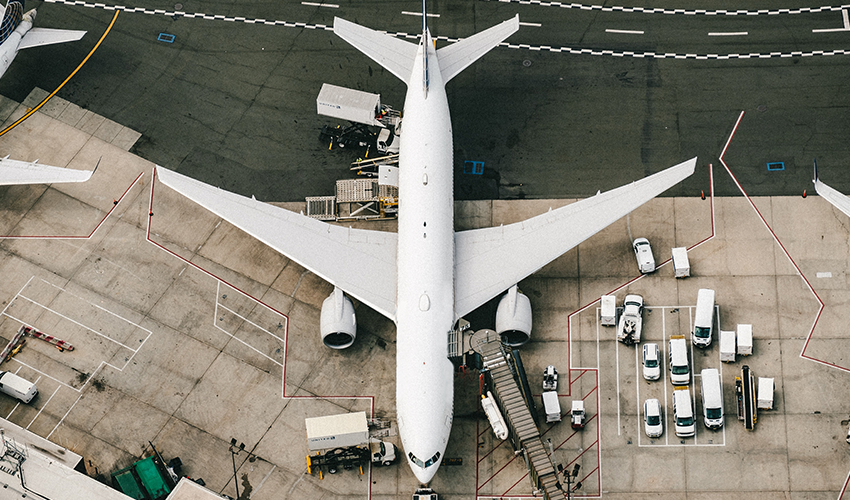 4.    How is INFORM supporting their customers in air cargo handling operations?
INFORM's cargo software solution supports companies in improving their turnaround times. Through elaborated algorithms, ULD transportation tasks, tours and loading activities can be easily prioritized for an optimal resource utilization. Allocation plans are updated in real-time, facilitating compliance with service level agreements (SLAs), from hand overs at the warehouse through loading into the aircraft and vice versa. Based on predefined rules such as urgency and type of cargo product, the system assigns a priority level to each task. Optimized pick-up times and dolly train movements ensure a maximum utilization of vehicles and drivers. As result, the most important cargo is always processed with priority and on time.
Triggered by telematics, the system displays the progress of each tour. Actual waiting times at security checkpoints are easily calculated using the location-based information gathered. The elaborated algorithms then forecast all waiting times for upcoming tasks automatically. This provides enough flexibility to adjust allocation plans as air cargo traffic changes. If exceptions occur, the advanced Graphical User Interface (GUI) highlights those situations that require attention, increasing operational awareness. Loading and unloading teams can be dispatched as well to ensure on-time departures.
When travel restrictions and capacity restrictions hit our customers in early/mid 2020, INFORM was able to support them to adapt their digital workflows to the new operational processes by quickly adjusting the system configurations. Whole aircraft terminals were closed, cargo transportation SLAs for individual products were modified and new handling procedures established overnight.
5.    What are your predictions regarding the air cargo sector in the post-COVID era?
As global supply chains undergoing significant changes, so will the air cargo industry. A couple of years from now, its landscape will look very different than in the pre-pandemic era. While air cargo pre-COVID was an important, but rather small brick in the overall building we call international trade lines, its percentage in terms of volume (and value) is likely to grow in the mid- to long-term  due to many trends, including:
Unleashing of e-Commerce:
Although on-line shopping was common even before the pandemic, its widespread application was extremely accelerated through lockdown measures around the globe. In my view, the amount of goods ordered online will continue to grow in the future and long-term as people have become used to the convenience and speed it provided. Especially for express cargo handlers like FedEx, DHL or UPS, this opens up a wide field of opportunities for future growth.
Diversification of international supply chains:
Together with on-shoring, near-shoring as well as a capacity bottleneck on other means of transport due to growing international trade in the post-COVID era, air freights' share in the overall transportation matrix will increase. More and more manufacturing companies are improving their supply chains' resilience  against disruptive events. The strategic decision to raise air freights' share is one counter measure to prevent production downtimes. Thus, not only on long-haul flights, but also on regional air cargo routes, we might see a boom in the years to come.
Zero emission aircraft:
While air cargo is currently used as means of shipment between two intermediate locations (=airports), and subsequent or first/last mile deliveries are purely done by trucks, this practice is also going to change.  With large cargo airlines and integrators already placing the first big purchase contract for cargo drones and small fully electric cargo aircraft for up to 2 t of payload, a future of transportation closer to the end-customer or even to hubs directly in the cities is possible. Both will change the way our cargo clients will operate.
If you would like to learn more about INFORM´s leading resource management system GroundStar to optimize the overall planning and control processes in aircraft handling, please follow this link.
Related Posts