There is a lot happening in aviation right now. Low-cost carriers (LCC) are really coming into their own and now comprise almost one third of all global airline capacity. Artificial Intelligence (AI), which continues to dominate the news and is being adopted across diverse industries, is also being embraced in new ways within the aviation industry. Another important development is the industry's heightened focus on Diversity, Equity, and Inclusion (DEI) and its role in addressing the persistent workforce shortages.
Low-cost Carriers Demonstrate Their Staying Power
No longer the stepchild to legacy carriers, low-cost carriers (LCCs) are experiencing strong growth and expansion. Currently, LCCs comprise nearly a third of global airline capacity. In March 2023, they held 32% of the world's scheduled airline seats. That represents a 29% and 25% increase over 2019 and 2015 figures, respectively. Some regions fared better than others. For example, South Asia had the highest proportion of LCC-operated airline capacity at 63% and Southeast Asia had 52%. Still, every region except Upper South America and Northeast Asia, saw their market shares increase.
LCCs now are responsible for over 50% of all scheduled airline capacity in 21 nations. Carriers operating in India have the largest share at 74%, while Eastern European nations such as Poland, Hungary, Bulgaria, Lithuania, Bosnia & Herzegovina, Slovakia, and North Macedonia also dominated largely due to the presence of Wizz Air. There are other nations such as the United Kingdom, Australia, and Türkiye where LCCs operate 48% of all capacity.
Data also shows that there are 14 nations where the low-cost share of capacity has grown by over 10% between March 2019 and March 2023. Among the largest of these countries are Indonesia, France, Saudi Arabia, and South Africa.
In addition to the LCCs, there are now ultra low-cost carriers (ULCCs) which are emerging such as Ryanair, Wizz Air, Spirit, and Allegiant. These "no frills" airlines offer a basic level of service and various options (e.g., seat allocation, cabin and hold baggage) to accommodate passengers. They too are enjoying success as evidenced by Ryanair's recent near-record profits of 1.43 bn euros, just under its record 2018 1.45 bn euros profits. For LCCs and ULCCs, the challenge will be to accurately identify those markets where the greatest growth potential lies.
Artificial Intelligence Is in the Air
You cannot pick up a newspaper or magazine and not read about Artificial Intelligence (AI). It's everywhere and the aviation industry is no exception. In fact, innovative aviation companies are looking for new ways to harness the power of AI to address their operating challenges and drive a better passenger experience. Here are just two examples.
AI and Flight Bookings
Oneworld recently completed its initial trials of AI technology applied to support customers' booking of round-the-world (RTW) tickets which are still primarily booked through human agents. This is due to the complexities involved with RTW flights which encompass countless potential destinations and flight connections. To accomplish its goals, Oneworld contracted the AI firm, Elemental Cognition, to develop a solution which combines both the flexibility of human agents with the convenience and efficiency of self-serve technology solutions.
Applying its revolutionary reasoning, natural language understanding, and dialog capabilities, Elemental Cognition was able to create an AI-powered solution that understands customer needs, assists them in their consideration of various and related trade-offs, and proactively cautions them of potential issues that could arise, while also addressing complex rules and fluctuating flight availability.
The Oneworld trial of this AI application has proven promising according to the companies demonstrated by the finding that, using the new solution, customers were four times more likely to create bookable RTW itineraries which meet their needs than they would have been using the standard booking interface.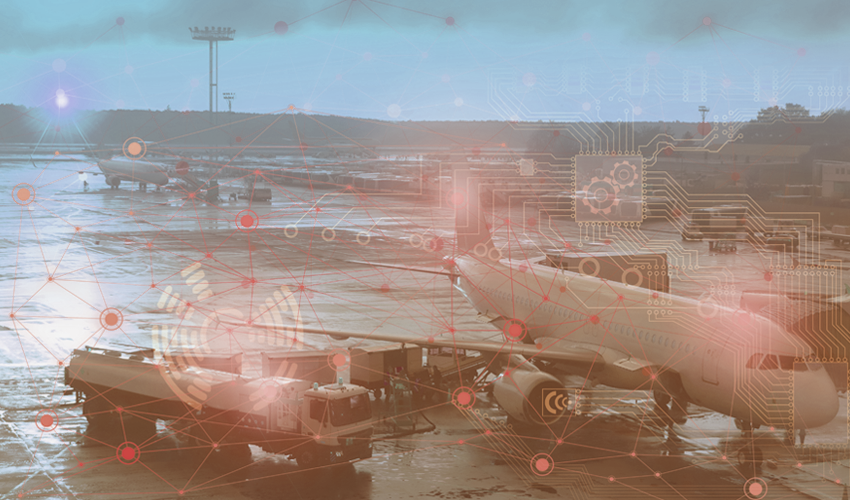 AI and Predictive Maintenance
Oneworld is not alone in its move to leverage AI. Qatar Airways recently teamed up with Google Cloud to collaborate on data and AI solutions for the airline industry. Among their focus were predictive maintenance and inventory control, passenger experience, and cargo operations. As one of the world's leading airlines with 200 aircraft fleets and 150 destinations network, Qatar is dedicated to improving its operations while delivering a better passenger experience. Its collaboration with Google Cloud will combine the airline's aviation industry expertise with the tech giant's data and AI expertise.
Regarding predictive maintenance and inventory control, Qatar will use Google Cloud and AI to control inventory and predict when aircraft components require replacement. This, in turn, will enable the airline to avoid costly downtime and improve flight reliability. Applying Google Cloud and AI, Qatar also hopes to better personalize the travel experience for its passengers by recommending flights based on a passenger's past flight history and by providing real-time flight status updates. Qatar also will be these technologies in the administration and control of its cargo operations.
Building Diversity, Equity & Inclusion in the Aviation Industry
Creating a diverse, equitable, and inclusive workplace is no longer an option. Many industries are introducing Diversity, Equity & Inclusion (DEI) standards and requirements within their regulations. For the aviation industry, driving increased DEI is as much about the ethical reasons for doing so as it is for its role in addressing one of the industry's greatest challenges – labor shortages. Attracting and retaining a strong and diverse workforce is critical to meeting increasing passenger volumes which are projected in the latest ACI World Traffic Forecast to double by 2039 to 18.3 billion.
Aviation's DEI status is also vital to the local communities that depend on airports for their local economies to thrive, not to mention the impact the airline and airport industry has on overall global commerce and economic vitality. It is therefore important that aviation companies understand what DEI stands for and how to impart its value within their organizations.
Diversity pertains to having representation among the various races, ethnicities, genders, sexual orientations, ages, religions, and other traits that define different people. Equity refers to providing an even playing field, including career opportunities and advancement, independent of one's background or identity. Inclusion is related to creating a work environment wherein everyone is valued, respected, and supported which also takes into consideration diversity, equity, and a corporate culture that encourages all employees to contribute, participate and be their true selves.
To achieve the goals of DEI, the industry will need to eliminate barriers that historically have blocked access to certain groups; address unconscious biases; meet the needs of diverse customers by having a workforce that is diverse and attracting diverse employees.
Related Posts